So Many Shells is a retired Stamp Set, but it's a great one! The sentiment is from the retired Thoughts and Prayers Stamp Set (a double stamp set)...another great one! These two sets make it easy for me to decide what not to sell! AND, I think I'll send this card to myself today!! Getting well and recovery is a splendid, welcomed event, right? I hope the Watercooler Wednesday: WWC: 236 Heidi's All About Occasions Design Team agrees!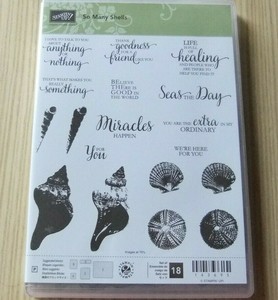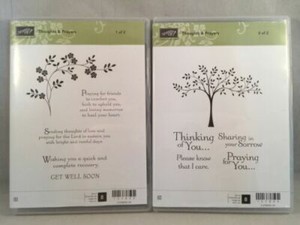 Again, I'll show you the inside of my card first as that's where I used these sets.
Just changing the color of the card base gives the card a new look. Here's the one I created back in July. I think I like the Blushing Bride Card Stock better.
What say you? I always look forward to your comments and opinions...except when they are "anonymous". I never post them but I do read them if they are short and it's quite obvious they are spam! I get a chuckle from their content!!
I have one more for you tomorrow using this EF, the sentiment die that Barb let me borrow back in July, and a different color card base. Then that will be it using this EF for awhile!
Update on surgery: All went well and I was home by 1 PM. Everyone was so nice and I couldn't have asked for more caring, skilled nurses and doctors. I still can have no BLT's (bending, lifting, twisting!) for a few days. I have no pain sitting or getting in and out of bed now and I think they told me the Kyphoplasty surgery was successful but life is like a fog when you are coming out of anesthesia and they have given you Fentanyl. Today I can go for a short walk to build up to the 8 mile dailies I do at Disney. I think this time, I'll cut back to 5 or 6 miles. That's easy to do at the Food and Wine Festival!
It's a beautiful blue-sky, no-cloud, no-wind, sunny day here in SWFL. I continue to pray that the God of the Universe will use His mighty power to calm Dorian down and even send him (it) out to sea to spare the east coast or wherever it is going at the moment. I can only watch the local weather people for so long and the news...oi vey! The Food Network is my main stay!
Thanks for stopping by today!